People can be so inconsiderate sometimes. Some unnecessary comments and chat messages can seriously ruin your day. Streaming live on Twitch requires you to be in a happy and positive mindset. That way, you and your viewers can enjoy your stream. This fun and exciting activity can take a bad turn so fast when some followers or live stream viewers decide to start harassing you and ruin everybody's mood.
Did you have a similar experience recently? Are you wondering if there is a way to handle such situations? Then worry no longer. We are here with so many methods that you can use to tackle harassment online while live streaming that will help you a great deal. There are so many things that you can do to keep yourself away from negative activities and enjoy streaming live on Twitch. Also, Buy Twitch Live Stream Viewers from us and give our fantastic channel a boost.
How to block someone on Twitch:
Is there someone in your followers or viewers that keeps annoying you all the time? Do they keep sending you hurtful chats and comments to make you angry? If yes, then you can go ahead and block or ban them from your account to keep them away from letting you and your viewers enjoy your exciting stream. To do this, please follow the steps mentioned below:
How to block a person on Twitch from a PC?
Go to the website twitch.tv and log in to your account.
Now, what you want to do is, go to the channel from which you want to block a certain user. Also check out this YouTube video which explains this process in a video format.
Once there, open the chat and look for that person's username. When you find the username, click on in.
This will open a pop-up menu in which you'll see their name at the top. Under their name, there will be information about when their account was created and how long they have been subscribed to your channel under their name.
Under this you'll find two blue buttons called 'Add Friend' and 'Whisper'. Next to these buttons, there will be three vertical dots. Click on it.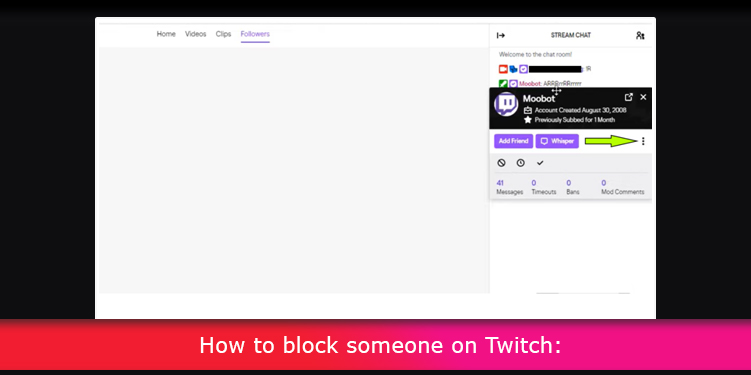 Now, you can see another pop-up menu with a 'block @#$' button.
Clicking on this button will block that user from your chats. Hooray!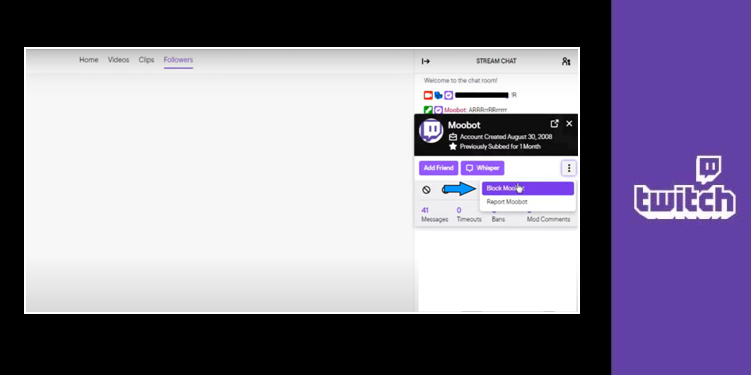 Now that you have blocked this user, they will no longer be able to annoy you with their stupid messages. Their messages will be blocked from your channel's chat and from all the other chats where you might participate.
What blocking someone from your Twitch account does?
What happens when you block someone on Twitch? When you block a twitch user from your account, you essentially remove them from your followers list. That means you are no longer friends with that user on Twitch. It automatically removes and prevents them from following you.
If you block someone from your Twitch account, they will not be able to follow or friend your account or channel in the future as well. This block is permanent. But it is reversible. To undo this, all you need to do is unblock them from your blocked users list.
You also prevent them from sending you personal messages or whispers by blocking someone. A block makes that user completely disappears across the platform for you. Remember, they can still follow other people and do their normal stuff. Still, they will be completely restricted from your eyes.
They can also no longer host your streams. Neither can they buy gift subs from your channel nor send them to other users within your streams.
In addition to all this, their messages will be filtered out for you from any other channel you might be on. Let's say that you are on your friends' stream, and this particular user is not blocked from there. Their messages will still be filtered out so that you cannot see them.
Do keep in mind Blocking someone is different from Banning someone. More on how to ban someone later in this article.
How to block someone on Twitch from Android/IOS mobile devices?
Blocking someone on Twitch mobile app is not that difficult. To do so:
Open the Twitch mobile app. Login to your account.
Now open the channel from where you want to block a user.
Find that user in the chat and on its profile icon.
This will pop open a window with an option labeled 'Block User'. click on it.
Now a conformation window will be opened which will have a 'Block' button. Click the 'Block' button and that's it. You're good to go.
We have talked about how to block someone when they are constantly causing problems for you. But you might be wondering what if you don't want to permanently remove someone from your account? What if you only want to prevent someone from sending chats, not to remove their complete existence from your channel or account?
Well in that case the best option for you will be to ban that user rather than blocking them. This will only prevent them from sending messages in your chats, but not remove them from everywhere. Ban is a very useful tool when the situations are gone out of control only momentarily, and the user is usually nice in the chats but misbehaving for the first time.
How to ban a user on Twitch?
To ban a user on Twitch is a fairly simple process. Follow these steps:
Visit twitch.tv on your browser.
Login to your account on Twitch. Go to the channel from which you want to ban a user.
You can see the chat-box on the lower right-hand side of the screen. Here you will be able to see all the usernames of your followers. Watch this YouTube video to learn this process in video format.
Find the username you want to ban. Click on that username.
Doing that will open a pop-up window. In this window, find the 'do not' sign, a backslash in a circle.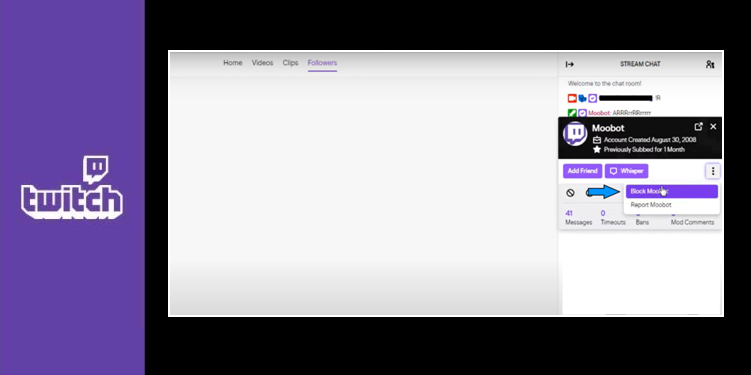 Clicking this button will ban that particular user from the chat.
There you go, now you have banned that user. This way, you can prevent a situation from going out of control.
How to tackle harassment on Twitch live streams:
Technology and the Internet have made it so much easier for us to connect with anybody in the world. We can talk to anybody a few blocks away from us or a whole continent apart. Such kind of exposure opens up many different opportunities for us. Our knowledge and wisdom have become infinite.
This also exposes us to a lot of dangers as well. Not all of the people you meet online is a nice person. You will find a wide variety of people on the Internet, some of which won't be nice to you. These experiences can be very troubling, especially when streaming online with thousands of people as viewers.
Crowd control at such a huge scale can be a difficult job. But no need to worry now. We are here to give you all the methods required for crowd control and tell you how to tackle harassment on Twitch live streams.
Hate Raids and how to deal with them:
Hate is not limited to people using hurtful and racist language to insult and trouble people in the streets or public places. It has taken a more dark and evil form online where it is so easy for a person to do this terrible thing more quickly and on a vast platform.
These people are as inconsiderate as they come. They have lost all fear they used to have. They don't even have to show their faces or identities to perform these formidable actions online.
Hate raids are very well-coordinated and targeted harassment towards people of a minority or a specific community. Hate raids often utilize bots to spam hurtful and racist messages to a user. Watch this amazing YouTube video to understand this process in video format.
Against these people, Twitch takes very strict actions to ensure its users' safety and security. It even sued two of its users because they used hurtful and racist language to harass streamers.
Twitch also provides you with a great variety of tools to counter these hate raids and continue streaming peacefully. Suppose, unfortunately, you are becoming a victim of this horrible crime. In that case, you can stop this by using the measures mentioned below.
Moderators are people from your community whom you can trust. First of all, in order to avoid hate raids or any other form of harassment online, you should definitely have some moderators. These moderators, or mods for short, can monitor the activity of the chat while you live stream.
They can keep an eye on the chat and detect anything wrong or offensive for you so that you can freely focus on your stream and don't have to worry about anything else.
Another thing you need to do before you start the stream is add a bot named 'sery_bot' to your chat.
To do this, first open Twitch and search 'sery_bot' in the search bar. Now you have opened the bot's channel. In the channel's chatbox, type '!join'. This will add the bot to your channel. You will receive a message 'hey "username," I just joined your chat…."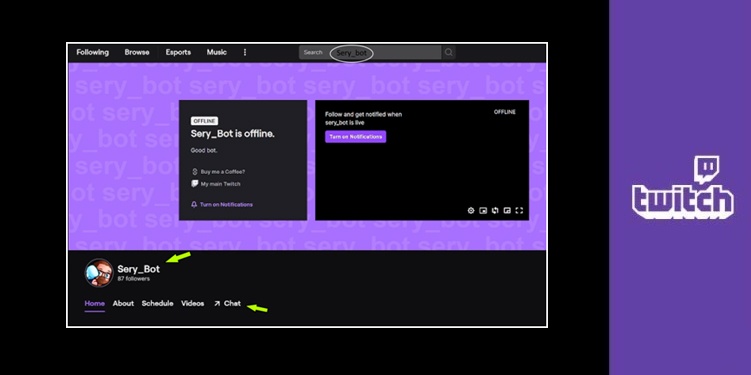 Next up, you need to go to your dashboard. Here you have to make sery_bot your moderator. Type '/mod sery_bot' and you will see a message, "sery_bot is now the moderator of this channel."
Having done this, you will have access to certain commands. These commands will help you tackle hate raids if you have any.
If you get hate raided, you can type in a command '!hateraidon' or '!hron', which will clear the chat, turn on subscriber-only mode and post a message about what is happening.
The message will be "Hello. We've placed the chat into sub-only mode temporarily due to this hate raid. Please be patient with us!"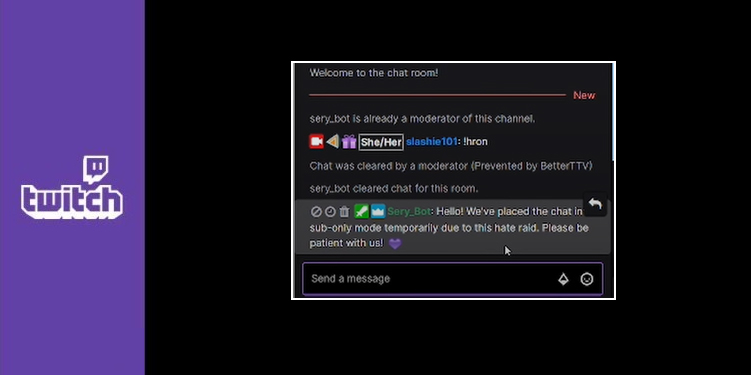 After this, you have to deal with the hate raiders. To do this, go in the activity feed and find all the usernames involved in the hate raid. Copy every username that is involved in this raid from the feed. Don't miss any.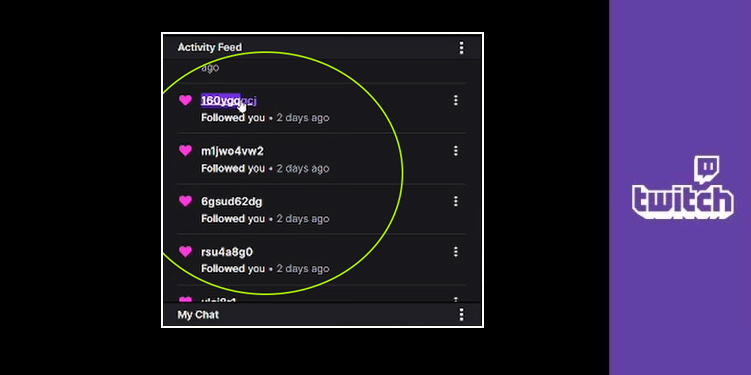 Open notepad and paste everything there. Now having done this, you also would have copied useless data such as '…started following you 3 mins ago". You need to get rid of this useless data. Copy a similar line and select 'Find and Replace' or press 'Ctrl + F.'
Here paste the line and replace it with nothing. This way you can get rid of all the useless information very quickly.
Now you have to select everything again. To do so, use 'Ctrl + A', this will select everything from the notepad and visit This Link. This link will lead you to the page of Commander Root, who has created many tools to help you out.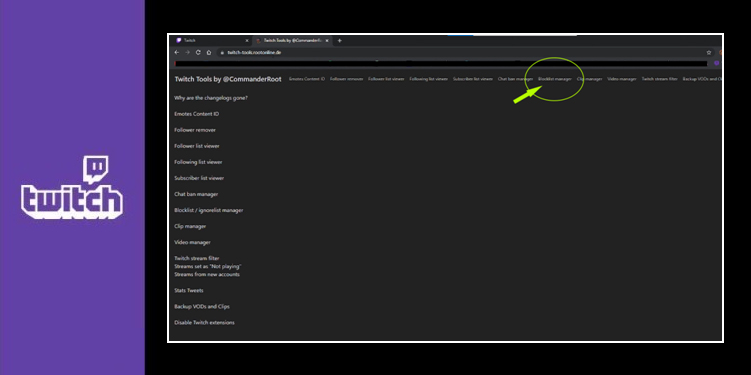 Here you will find 'Blocklist Manager', click that. Login via Twitch and you will see an option labeled 'add new blocks'. Select that.
Paste all the usernames to the bar and click add users to block list. This will block all these bots or people involved in the hate raid. Also use the chat ban manager and ban these users as well.
Well, here you go. That's all you have to do to tackle a hate raid. Be safe Streamer, cheers!
Frequently Asked Questions
Is banning someone different than blocking someone?
Yes. If you ban someone, they cannot send messages to your chat. But if block someone, they will be removed from your followers list.
Can I use bots instead of people as moderators?
Yes. You can make bots moderators as well. Just type '/mod name of the bot' to make a bot moderator.
Can moderators block people?
Yes. If moderators finds anyone using hurtful or racist language which violates Twitch's policies, they can certainly block that user.
Can I unblock someone after blocking them?
Yes. You can unblock a user anytime you want. Go to the blocked users list and unblock them from there.
Is Commander Roots' tools free to use?
Yes, those tools are completely free to use.