It's been a while since you created your channel on Twitch, and now day by day, you are gaining popularity. Your channel is growing, and you are gaining fans by the truckload. Feels good, huh. We are happy for you. You go, gamer!
But now you are thinking that your Username sucks! Why did I ever use that Username in the first place? If that is the case, don't worry; you are not the first, and you probably won't be the last.
It even happens to the best of the streamers. Often, we just put the first thing that comes to our mind as a Username and just to realize later that it is not good at all. If this is happening to you right now and you are worried about changing your Username or not, or will it affect your followers count, relax. You have nothing to worry about. We have got you covered!
We are here to tell you everything there is to know about how you can change your Username and what will happen when you do so. So sit back and relax. Also, it is a great idea to Buy Cheap Twitch Followers from us to give your channel an appropriate boost.
Things to consider before changing your Twitch Username:
There are a few key things you should know about before attempting to change your Twitch Username or URL;
Changing your Username changes your channel's URL, but changing your Display Name DOESN'T change your channel's URL.
The display name is the same as your Username, except you can capitalize any letters you want. This capitalization will be displayed on your profile page and when you live chat.
The URL of your old Username will NOT re-direct your audience to the URL of your new
This situation might cause trouble for your followers to find you. To minimize the impact, try to plan the Username and change your Username when you are not broadcasting and let your audience know. Meanwhile, share your new URL and Username as much as possible.
Changing the Username DOESN'T impact your ad revenue; however, it might be delayed a little for the day of the change.
By changing your Username on Twitch, you will not lose any revenue. But keep in mind, for the day of Username change, revenue from the viewers may be delayed a little bit. You'll only face this delay on the day you change your Username. Revenue that is completely unaffected by this are the ones from Subscriptions and Bits.
You'll have to wait a minimum of 60 to 90 days before you can change your Username again.
Once you change your Username, Twitch prohibits you from changing your Username again for the next 60 to 90 days.
By changing your Username, you CANNOT escape any time-outs or bansfrom channels and community.
Eh, no loopholes here! You cannot escape community or channel time-outs just by changing your Username.
There is a probability that you cannot get your old Username back. Read the Renaming and Recycling Policy before.
Twitch has a renaming and recycling policy that might assign your old Username to someone else. More on that, we will discuss later in this article.
When Affiliates or Partners change their Usernames, this does not change the name of the ticket product used in the URL to link to your subscription page directly.
There are a few methods you can use to change your Twitch Username depending on the device you are using and whether you are facing any problems while changing your Username.
How to change your Twitch Username on your Desktop Browser
To do so, first of all, you need to open your desired browser and search for Twitch.tv. Doing this will lead you to Twitch's home page and allow you to log in. Once you are logged in, you need to follow the below steps;
Once you are on the homepage, you can see your profile icon with your profile photo on the top right. Hovering your cursor over on this icon will pop open a drop-down menu. Visit this amazing YouTube videoto see this process audio-visually.
You'll see an option labeled 'settings,' which you must click.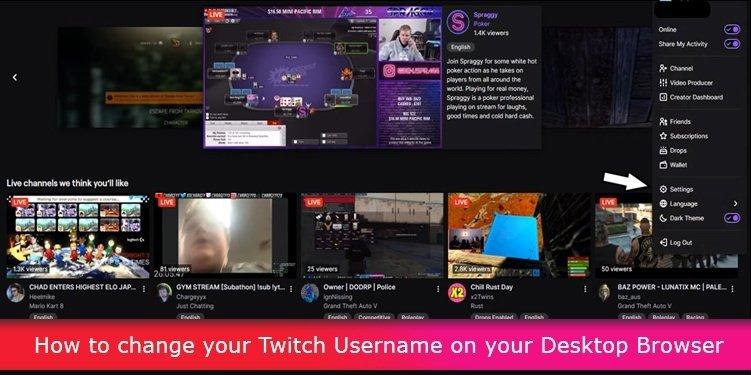 This will bring you to the settings tab, which will have many sections, the profile section being the first.
The first thing on the first page you will see is your profile menu. In this menu, you will find a bar in which your current Username is written under profile settings.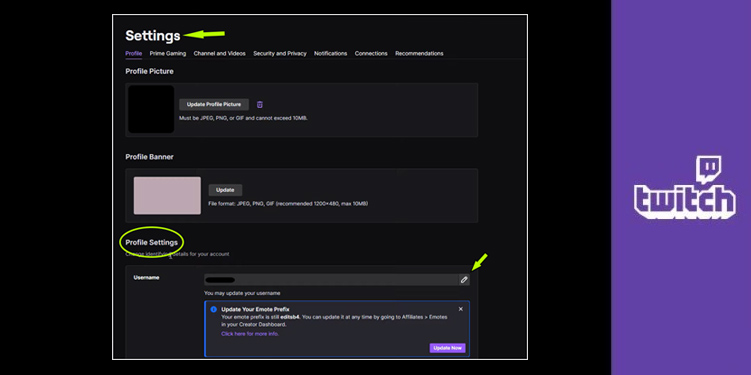 Next to it is an edit button (pencil icon). Clicking it will enable you to type in your new desired Username. You will also be warned that you will have to wait the next 60 days if you want to change it again by changing your Username now.
Also, your new URL will be displayed right under the bar where you have to type in your new Username.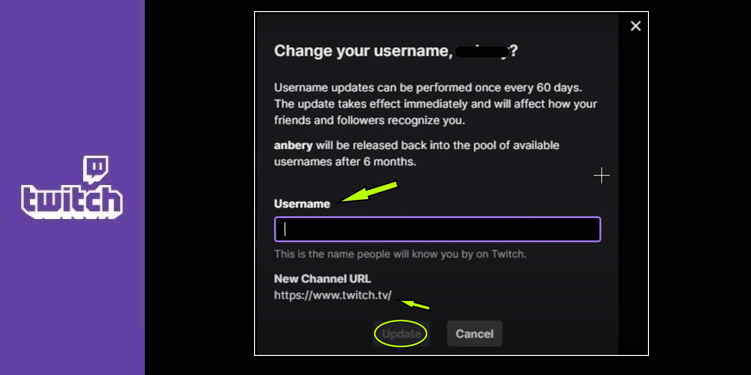 The last thing you need to do is click the 'save changes' button, and you are good to go. The process is the same if you are using Twitch Desktop App; you are just working on the application instead of the browser.
Few things to keep in mind:
- You need to verify your e-mail address before renaming your Username. Otherwise, you will be asked to verify your e-mail address.
- All the discarded or abandoned Usernames are kept on hold by Twitch for a minimum of 6 months. After that, they can make it available again in the pool of Usernames for others to choose from.
- Broadcasters are not allowed to change their Usernames during the delivery of a Video-on-demand or live stream.
How to change your Twitch Username on a mobile device:
If you are working on a mobile device, you cannot change your Username using Twitch's Android or IOS application. Instead, you have to open Google Chrome for Android or IOS and follow these steps:
Open your Google Chrome browser on your Android or IOS mobile device.
Visit twitch.tv, and you will find the mobile version of the website.
Here, you need to change the version of the website from mobile to desktop view.
To do so, you need to click on the three dots icon on the top right of your browser.
It will pop open a drop-down menu. At the bottom of this menu, you will see an option labeled 'Desktop site' with a monitor icon on its left.
This will open the desktop version of the website and allow you to change your Twitch Username just like you would on a PC.
Follow the same steps described in the section on how to change your Twitch Username on your desktop browser, and you're good to go.
Keep in mind that the Safari browser doesn't allow you to view websites in a desktop view, so you need to download the Google Chrome browser if you don't have it yet.
What to do if Twitch doesn't allow changes to your Twitch Username with conventional methods:
Sometimes it happens that for some technical reasons, Twitch doesn't allow you to change your Username even though you meet all the requirements to do so, and nobody has taken up that Username already.
It can be not very pleasant, we understand. But instead of browsing through the internet and finding half-baked theories about why you cannot change your Username, implementing trial and error methods, and wasting your energy, you can just let Twitch tell you what the problem is.
Though it will take a little bit more time, this method is full proof, and you don't even have to waste so much of your time. What you need to do is;
Visit this link https://help.twitch.tv/s/contactsupport?language=en_US
This will lead you to the contact us page of Twitch support. Here you'll find a form which you will need to fill out. We hope that this can solve your problem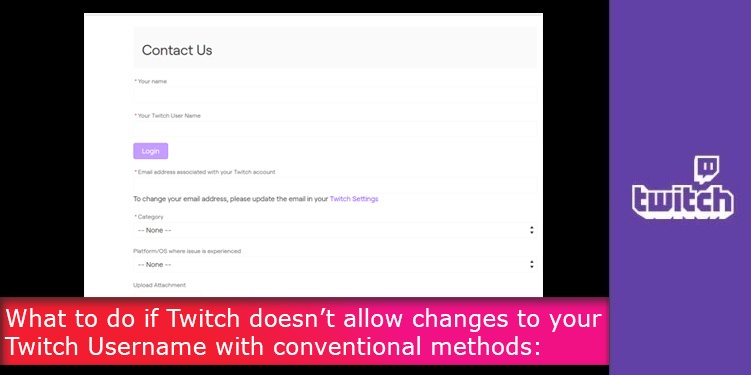 First of all, you will need to play fill in the blanks all over the form. It will ask you to log in first, and we highly recommend that you do so.
After that, all you need to do is fill out the rest of the form. Describe your issue in detail and hit upload.
That's it. In a matter of hours or days, you'll receive a reply from Twitch, and they'll guide you through what the problem is.
Twitch's Username Rename and Recycling Policy
Allotment of the Usernames on Twitch is a completely first-come-first-served service. It is officially assigned to anyone who chooses that particular available and open Username before anyone else.
Twitch retains the right to make certain Usernames available for re-registration under these circumstances;
Either they violate certain registered trademarks.
They are involved in an active impersonation of someone (registering your wanted Username before everybody will not be considered an active impersonation).
Or the account is no longer active. That means there has been no login activity or viewing activity on the account for the last 12 months.
That's it. That's all you need to know about how to change your Username on Twitch. Have a nice day! Be sure to check out this YouTube video.