YouTube is the #2 most used search engine in the whole world. It has become an absolute giant of video-sharing platforms. There is barely any competition that can come even close to YouTube. The number of users and creators is phenomenally large on the platform. YouTube gains its value from the vast video library it has.
Everything you want to know or learn can be found in an audio-video format on YouTube. Which, by the way, is the best medium to learn. Statistically, YouTube houses more than 2.3 billion users; 100 hours' worth of videos are being uploaded every minute on the platform; on average, a whopping 1 billion hours' worth of content is watched on YouTube daily! This makes people more likely to search for something on YouTube instead of Google.
To be successful on the platform, one must master some crucial techniques. One of those is creating a perfect scroll-stopping thumbnail, which will make a user stop and click on your video. A custom-made YouTube thumbnail can make all the difference when it comes to the number of views on a video. We are here to share each and every tip out there that you can start implementing today in your YouTube strategy.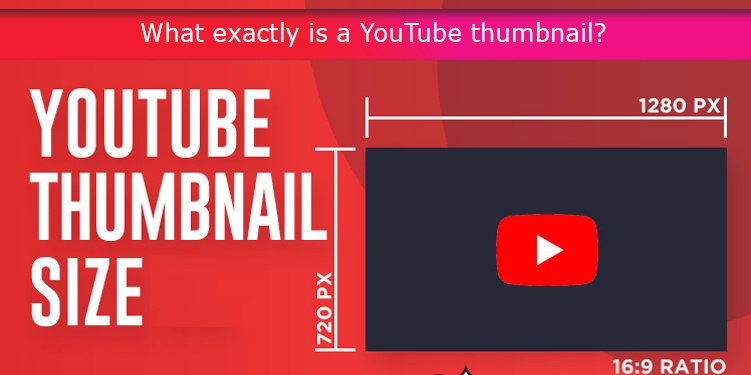 What exactly is a YouTube thumbnail?
YouTube thumbnail is essentially a static image for preview purposes. It is the first thing a viewer will see when they browse or search for videos to watch on the platform. Thumbnails act as a doorway to your videos. They have a strong psychological effect on a viewer's mind and decide whether a person will click on a video or not.
Well-crafted beautiful thumbnails can positively affect a person and will allow your videos to stand out from others. No matter how well you have made your video, if your thumbnail isn't enticing enough, it might not gain as many views as it deserves. Therefore, it is of utmost importance to take time and craft a rich YouTube thumbnail image.
What makes YouTube thumbnails so crucial for click through rates
A famous YouTuber once said, "A thumbnail is like a billboard for your YouTube videos." And this statement stands true. By crafting an amazing thumbnail, you're broadcasting your video to the world and funnelling more viewers to your channel. Most people pour hours and hours into making their videos but don't even spend 10 minutes making the thumbnail.
This is not appropriate. Every creator should equally put effort into making videos and thumbnails. Because you get views by click-throughs, and thumbnail is the essential tool to maximize your videos' click-through rates. Your goal with your thumbnails is to engage, inspire, attract people, and everything in between. If you are still not engaging enough users to view your video, feel free to buy real YouTube Views on our website in order to get a head start.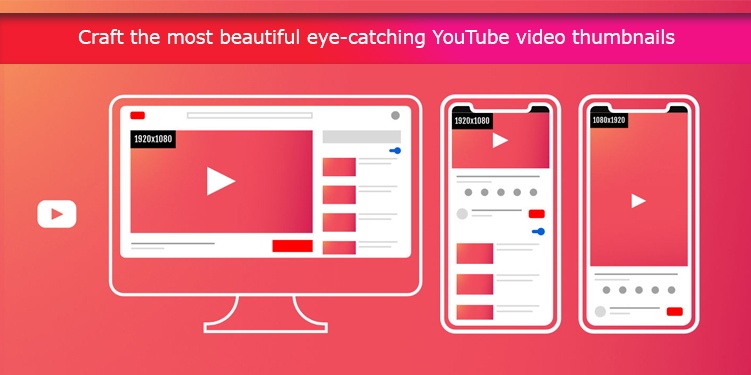 Craft the most beautiful eye-catching YouTube video thumbnails
A clickable thumbnail is the key to establishing a large following and subscribers base on YouTube, as a thumbnail is one of the key components that will boost the views on your videos. There are some things you need to keep in mind while creating a YouTube video thumbnail.
Make exclusive thumbnails
Stock images are good options in the early stages of your YouTube journey. But as you move along, you should consider switching to more professional photos. The images that you use for thumbnails can be a still from your video or a photo you shot separately for thumbnail purposes. It is important to make them unique as it asserts certain respect and standard. It proves to the audience that you are serious about your job.
Sway away with awesome designs
Apart from being a doorway to a video, thumbnails should also be a showcase of certain design elements that reflects creativity. Font, color, and placement are the elements for the text and borders, frame, and contrast for the image. These elements make a thumbnail more eye-catching and scroll-stopping. High-contrast overlays of text and colors are an example. These elements are very easy to master, even for a beginner.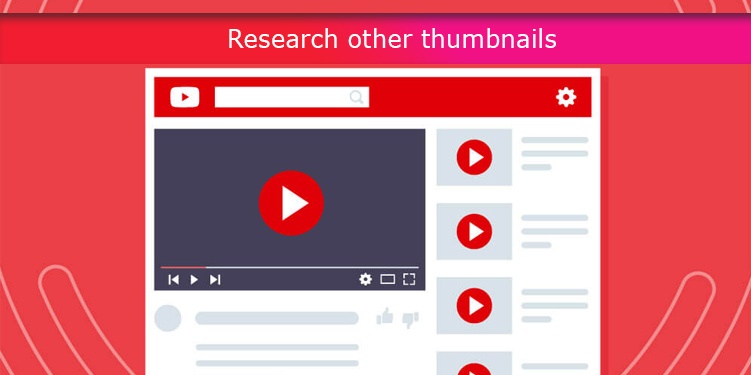 Research other thumbnails
It is equally important to research what other high-performing creators in your niche are doing with their thumbnails. Because it will give you an idea about what is working and what is not, you'll find certain fonts or frames to work better than the others. Try and incorporate those elements into your thumbnails as well and observe. Again, it is completely up to you if you want to be absolutely unique and work with your own ideas.
Never use clickbaits
Views are not solely counted based on click-throughs. Other parameters of engagements also play an equally important role. These are engagements rates and to what extent is the video watched by a viewer. You should avoid misleading images as thumbnails because the algorithm will detect this and punish you. When you use a too strong clickbait, viewers will realize this very soon and exit the video quickly. Although your clicks will be high, the views will not be counted.
Changing is not bad
You should always be open to changing your thumbnails if the video is underperforming or not gaining as many views as you expected. It is not wrong to do so. Analyze the performance of your video for a while; if you feel like it should perform better, change up the thumbnail. It might result in a positive response.
Make templates
Being a YouTuber, you must be spending a lot of time recording and researching new ideas for your videos. Doing so, you must be coming across many great pictures and ideas that can be used as thumbnails. Save them in categorized folders as templates that you can use when need be. This was you save yourselves a lot of precious time.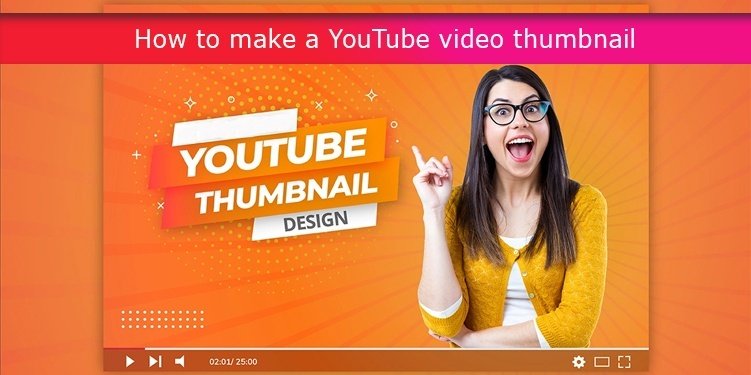 How to make a YouTube video thumbnail
The methods of creating a thumbnail for YouTube videos are numerous. It is up to you which one works best for you. Several paid software provides ultimate control and flexibility while creating a video thumbnail. But in the initial days of your journey, you might be better off experimenting with several free ones to get the gist. We will get you familiarized with both kinds of applications so that you can make an informed decision.
The basic steps are very simple. Essentially what you need to do is;
Visit any Free YouTube thumbnail creator online and sign-up if required.
Now, you need to upload an image that you want. Alternatively, you can choose one from the pre-set templates of the thumbnail creator application.
As need be, add text, clipart, overlays, or background of your choosing.
Once finished, save the final product to your computer and done.
How to create a YouTube video thumbnail using free online applications
There are literally hundreds of options available to choose from. We recommend 'FotoJet.' The reason is how easy it is to use, plus it does not require you to sign-up to make a thumbnail. FotoJet provides you with many stock photos to choose from or gives you an option to upload your own.
Their free service lets you create small and medium-sized files, but you'll need a premium subscription to make large and extra-large image files. Let's get started.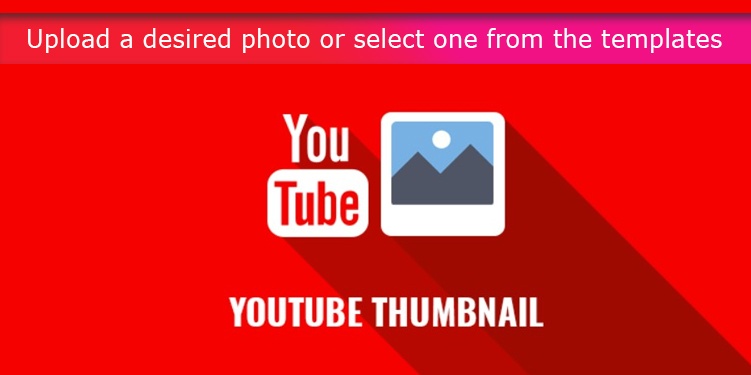 Upload a desired photo or select one from the templates
There are no limitations in place by YouTube regarding which photos you can upload as a thumbnail. It lets you select one that is autogenerated as well. But autogenerated thumbnails aren't good enough. That's why we opt for you to create a personalized thumbnail.
If you have a design of your own in mind, you can upload that directly to FotoJet. Don't worry if you are facing certain blocks finding the correct design. You can always take help from the great templates FotoJet offers.
One important tip: It is always a good idea to integrate talking heads in the thumbnails because it will drive up your engagement rates. According to Instagram statistics, images with faces in them acquire up to 33% more likes and 32% more comments, which is a lot!
This happens because of the psychological effect that a face has. Whenever a human sees a face, their brains are compelled to analyze it because of a primal reflex we human have.
Texts, Clipart and Background
Having selected a picture for your thumbnail, now you need to focus on other three important components;
Text
Clipart
Background
It is a good idea to put your video's title in the thumbnail. It further clarifies your video concept. Sometimes, the complete title is not visible because of its length. But a thumbnail is fully visible no matter what. Also, add contrasts. What it means is if your background is dark, put bright texts on it, which increases its readability and vice-versa.
Save it to your computer
After finishing all that is to be done, save the final product to your PC. Import it in JPG or PNG format. You don't need to worry about resolution because it automatically adjusts it to YouTube recommendations. YouTube recommends keeping your thumbnails to 1280 x 720 pixels.
Similarly, Adobe Premiere Pro is a wonderful paid app that provides professional tools to create great thumbnails.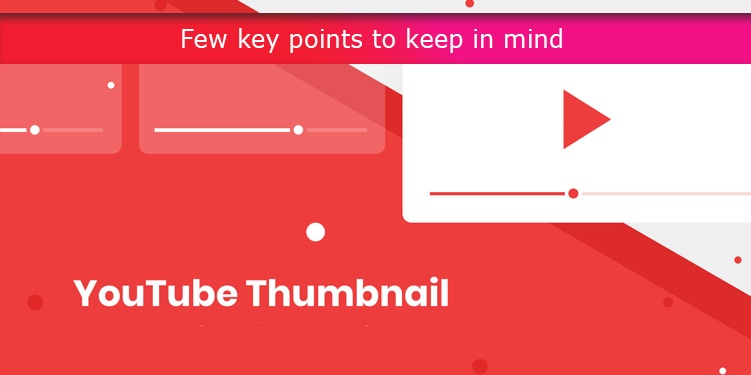 Few key points to keep in mind
Keep your thumbnail resolution 1280 x 720 pixels. This will fit perfectly in any format a viewer watches your video.
Keep text and background in contrast so that it pops out.
Carefully select the font and its highlights and set it according to your video's mood.
Never fear to change up the thumbnail of your video if you feel like it.
Images should be saved in JPG, PNG, or GIF formats within the file size limit of 2 MB.
The aspect ratio should be kept of 16:9.
Upload your thumbnails to YouTube in three simple steps:
Most applications directly allow you to upload thumbnails to YouTube, but you can do this manually as well. Follow these steps to upload a thumbnail of your choice to YouTube.
1. Login to YouTube Studio (you'll need to have a verified account).
2. Find the "create" botton and click it.
3. You will see an option called thumbnail; select upload thumbnail under there.
If you have already uploaded your video, go to Content and find the video. Select its thumbnail and upload the thumbnail you want and done. If you are still not satisfied with the amount of Views you receive on your YouTube videos, you can buy cheap YouTube Views on BuyCheapestFollowers to boost your videos.