Don't like your default YouTube channel URL? Here's how you create a completely customized YT channel URL: Latest 2021
So, made a new YouTube channel, huh! Congratulations!
In these early days of your YouTube journey, you might be facing a problem when you are constantly trying to share the link to your YouTube channel. You have to copy that mile-long god knows what URL of your channel. That automatically assigned URL is so long and complex that combining ten of those could make a whole novel. How are we supposed to remember such a long URL?
Today is your lucky day if you have the same issue and are constantly irritated by copying that default address. We have got a great solution for you that can not only eliminate the immense complexity in your channel's URL but will also add a little sparkle to your channel's link.
So don't you worry – we have got you covered. We'll tell you everything there is to know about customizing your YouTube channel URL/Link. So, buckle your seatbelts and let's begin.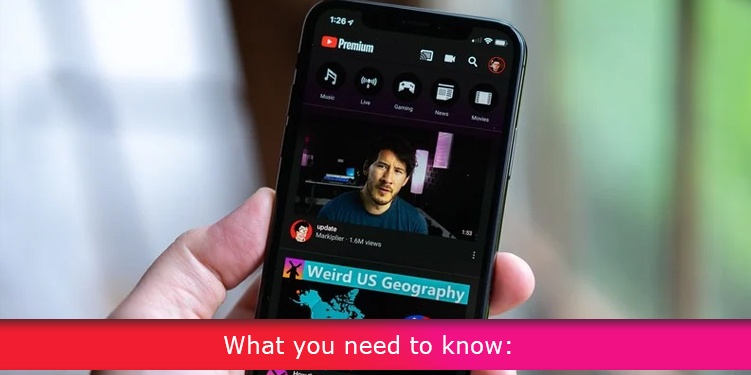 What you need to know:
First of all, when you create your YouTube channel, you are assigned a default URL to your channel in the format "youtube.com/channel/ (24 character code)." Now, this doesn't look good, does it? I mean, it's not glamorous at all! This needs to be changed. But before we do that, first of all, you have to make sure that your channel meets the following conditions;
There must be 100 subscribers at a minimum on your channel.
Your channel must be a least 30 days old.
Your channel must have a banner and a profile icon.
Now, for those of you whose channels already meet these criteria, voila! You're good to go. Happy one-month anniversary, by the way. Let's dive in and rebrand your amazing YouTube channel by making a unique and custom URL that your subscribers can easily read and remember. Also, you should know that you can buy REAL YouTube Views that can help you boost your channel.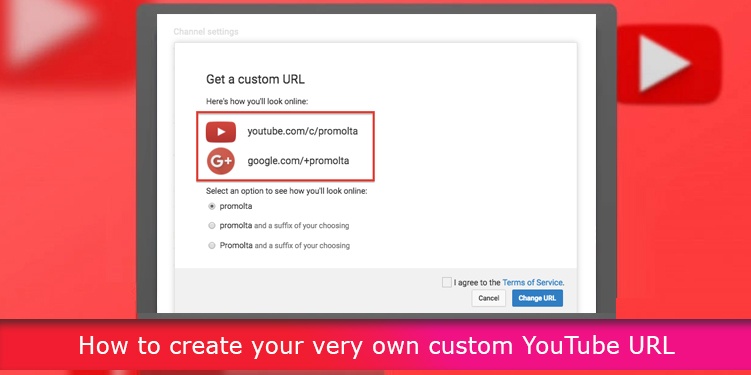 How to create your very own custom YouTube URL (Desktop/Mobile): Latest 2021
Here we will share with you guys in the easiest way and with the greatest detail on how you can custom make your channel's URL so that you can do that in minimum time with almost zero effort.
We will describe all the steps required for both Desktop and Mobile in detail.
Head on to the YouTube website and to your account. On the top left of the page, you can see your profile icon. Click that icon which will open a drop-down menu.
In this menu, you will be able to see an option labeled 'YouTube Studio.'
Click this option. This will take you to your YT Studio page. This is the page only you can see as a creator and owner of the channel.
On this page, there will be Channel Analytics section in the center.
Here, you check whether your channel meets the minimum required number of subscribers. Now, you can move forward to customize your own URL.
On the left-hand side, you can see an options drawer (three horizontal lines).
Clicking will open a list, in which near the bottom you will see a 'customization' button; you must click on that.
Now, if you are on a mobile device, the process is not different. You only need to open YT Studio on your preferred browser, NOT on the YT Studio application, and follow the same instructions. Here is a video link which explains the similar process that will help you.
Doing so will lead you to the channel customization menu. Here you'll see three sub-menus, Layout, Branding, and Basic Info. You need to go to the Basic Info sub-menu. Below within this sub-menu, you can see the Channel URL section.
In this section, a bar displays your current channel URL. Under that, you can see a button 'set a custom URL for your channel' highlighted in the color blue. Click that. This will give you an option to select a URL that ends with '/c/name of your channel,' you can either do that or below that; you can see a bar where you can add any letters or numbers to the URL.
Keep in mind the first option will only appear if no one has taken the URL with the name that matches your channel. Now, let's say that you want a completely different URL that does not match your channel's name; you need to go on the top left of your window and click Cancel. This will bring you back to the channel customization menu.
Here, on the front and center, you can see your channel name and description section. On the right-hand side of the box where your channel name is displayed will be an edit button; click that to edit the name of your channel to the desired name (name that you would like to make your URL). Hit Publish on the top left corner of the window.
Keep in mind, do not set a URL beforehand, or else you first have to delete that URL and repeat this process again. Now, having done this, you are all set to go onto the 'set a custom URL for your channel' option. When you do this, you will observe that now you have two options to select from, the first one being your last channel name and the second one being your new channel name.
This happens because you have had two different channel names in a few minutes. Having selected the URL you like and adding any numbers or letters to it if you want, now you can head on and hit publish.
Et Voila! You have yourself a brand new, sassy URL for your YouTube channel, which is a piece of cake to memorize and share as well. Feel free to go crazy, and share your newly obtained link to the world.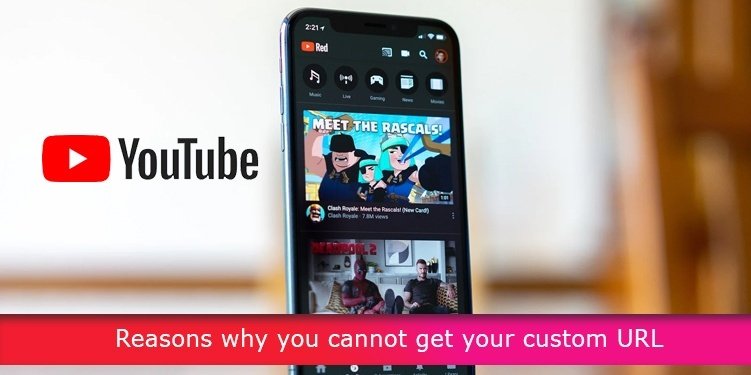 Reasons why you cannot get your custom URL
The most common reason some people cannot get their desired custom URL is that they do not meet the three requirements. Be sure to check beforehand that you have met all three of those conditions. As mentioned earlier, you can check your current subscriber number on the channel analytics section too.
Another common reason might be that someone already has taken that URL. You can search on YouTube, find the person who has it and try to negotiate if you really need that particular URL.
Now, if you have searched YouTube to find a channel with the URL you want for your channel and found nothing. And still, YouTube is not allowing you to take up this URL, then the reason can be that this custom URL is taken off by YouTube, and it's been made unavailable.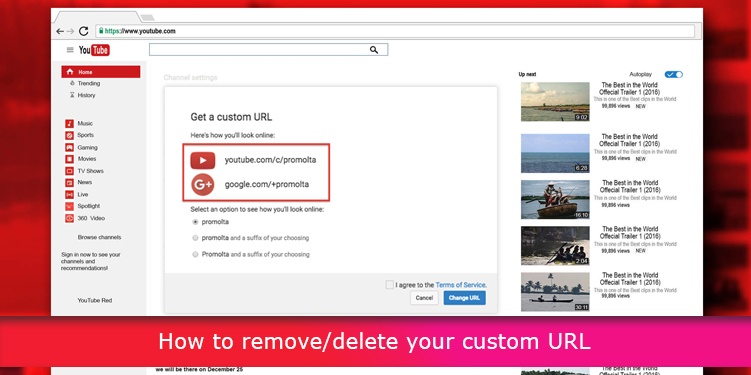 How to remove/delete your custom URL
It sometimes happens that we make mistakes in the URL while setting it up. If this has happened to you, don't you worry, We have got a solution for that as well. Follow these steps and remove/delete your current custom URL.
Once again you need to visit YT Studio's customization page and go the the Basic Info tab. Now remember where you saw the channel URL section?
There you will find your custom URL. Just below it, will you see a Delete button. Click it.
Now head on to your Google Account and find your about me page. Click the icon alongside where your current URL is displayed. The next page that opens will have a Remove button which you have to click. Done.
Now all you need to do is follow through the previous steps mentioned in the section about creating a custom URL and create another error-free custom URL. Just don't make any mistakes again! Best of luck.